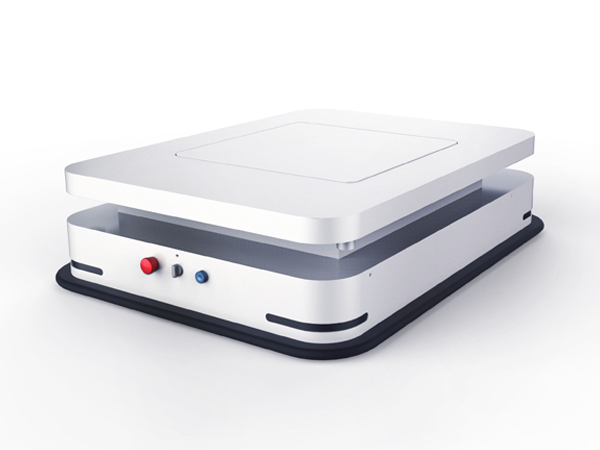 Omnidirectional Piggyback AGV With Laser Control
Laser trackless AGV is an autonomous mobile platform for service-oriented robots and industrial indoor inspection. Using natural navigation technology, it is possible to realize the autonomous movement of the platform without deploying magnetic strip /magnetic nails in the use scene
Deployment and scheduling system CAFM system software can be used to complete on-site environment learning and rapid deployment of tasks
Parameters:
| | |
| --- | --- |
| Model | L1.2m x W0.9m x H0.33m , customizable |
| Navigation Method | Laser navigation |
| Control Method | Centralized scheduling |
| Directions of Motion | Forward, left, right |
| Communication Method | Wireless LAN |
| Carrying Weight | 200KG/500KG ( can be customized ) |
| Security | Obstacle sensor + anti-collision mechanism double protection |
| Speed | 0-35m/min |
| Navigation Accuracy | ±10mm |
| Maximum Incline Allowed | ≤3° |
| Stop Accuracy | ±10mm |
| Alarm Mode | Audible alarm |
| Charging Method | Manual charging / automatic charging |
| Drive Mode | Differential drive |
| Driving Voltage | DC24V/DC48V |
| Security Perception Distance | 0 to 3 meters, adjustable |
| AGV Service Life | ≥10 Years |
Features:
1、Laser trackless AGV is an autonomous mobile platform for service-oriented robots and industrial indoor inspection. Using natural navigation technology, it is possible to realize the autonomous movement of the platform without deploying magnetic strip /magnetic nails in the use scene .
2、Deployment and scheduling system CAFM system software can be used to complete on-site environment learning and rapid deployment of tasks.
3、at the same time, laser trackless AGV provides software and hardware secondary development interface for system integration and developers, which can realize application development based on AGV platform.