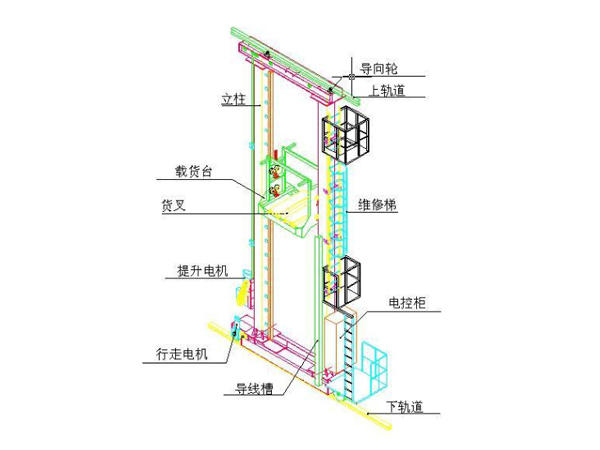 Stacker
Operating speed of high-speed stacker is 260m/min
The driving system adopts Siemens overall scheme
Siemens Integrated Drive System
Deutsche Louis Testing Products for Detection, Communication and Other Devices
Low Voltage Apparatus Using Schneider Products
Stacker Parameter Table:
Type

Unit Type

Miniature

Model

US

UD

MS

Column

Unipole

Double Pillars

Unipole

height(m)

22

28

12

Cargo Dimensions

European Standard Pallet or Setting

(400---600)WX(600---1000)D

Rated Load(kg)

1200

1500

1x50 2X50

Configurable LHD type

Single Deep/Satellite Vehicle

Single Deep/Double Deep/Satellite Vehicle

SD/DD

Running Speed(m/min)

160

160

240/360

Traveling Acceleration(m/s2)

0.4

0.4

1

Hoisting Speed(m/min)

40

40

60

Hoisting Acceleration(m/s2)

0.5

40

1

Fork Speed(m/min)

30

30

30

Fork Acceleration(m/s2)

0.5

0.6
Introduction Of Equipment:
1、Stacker is the core component of automatic warehousing system. It is the main executive equipment in warehousing system. Responsible for storing or removing goods from internal shelves. The load varies from 50kg to 4T.
Equipment Characteristics:
1、Operating speed of high-speed stacker is 260m/min.
2、The driving system adopts Siemens overall scheme.
3、Siemens Integrated Drive System.
4、Testing, communication and other devices using German Louis Testing products.
5、Low-voltage electrical appliances adopt Schneider products.