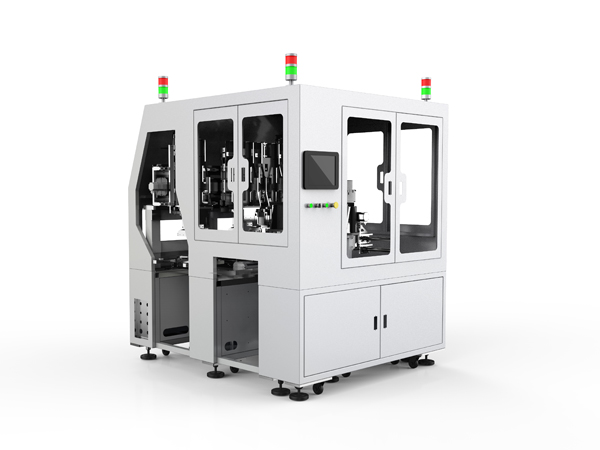 Fixture Dis-Assembly and Pick and Place Machine
Product process requirements as the starting point, and the robot arm of the implement coherent products, compact, high efficiency can be achieved between the products and to be welded, precision assembly
The base and the upper cover of the metal parts of the mobile phone are assembled , and the upper cover is removed to open the inner support of the jig, and the band is taken out and the upper cover of the jig is closed
Parameters:
| | |
| --- | --- |
| Machine Size | 1.8 m x 1.25 m x 2 m |
| Product Produced | Metallic parts |
| Machine Requirements | AC220V 50HZ/60HZ 0.6Mpa |
| Machine Accuracy | 0.02mm |
| Size of Product Produced | 20-160mm x 20-160mm |
| Notes | Fully automatic laser welding assembly equipment |
Function:
The machine automatically disassemble fixtures, removes mobile phone assemblies inside,and move fixtures down line for reuse.
Features:
1、Product process requirements as the starting point, and the robot arm of the implement coherent products, compact, high efficiency can be achieved between the products and to be welded, precision assembly.
2、The base and the upper cover of the metal parts of the mobile phone are assembled , and the upper cover is removed to open the inner support of the jig, and the band is taken out and the upper cover of the jig is closed .
3、Programming is modular, for different products, users can adjust the program, the use is more convenient and flexible.
4、XY linear module includes a set of modules and two sets of X-axis Y-axis module, the processing module by the linear member, modules, linear guide groove switch, drive and other components; Groove switch-module 17 for Provide position signal to ensure walking accuracy (accuracy: ±0.0 3 mm).
5、Independent research and development equipment, production lines while saving manpower,greatly improving the productivity and yield, effectively saving production costs.