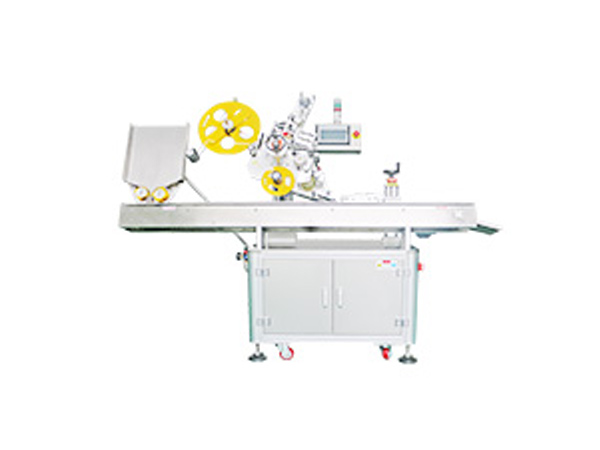 Automatic Blood Collection Tube Labeling Machine
Applicable to the full-week or half-week automated labeling requirements of the following industry products: pharmaceutical industry, such as blood collection tubes, oral liquid, blood collection tubes, etc .; stationery products, such as pen holders, solid glue, paste pens, etc .; cosmetics industry , Such as lipstick, eyebrow pencil and other products; meat products industry, such as ham sausage and other round products. Optional industrial vision can be used to detect whether the label of the object is missing, and the functions of collecting and printing the third phase of the labeled object are satisfied
The main material of this model is SUS304 stainless steel and imported aluminum alloy material that conforms to international standards. The surface of the aluminum alloy is double-anodized to prevent rust and deformation
Device parameters:
| | |
| --- | --- |
| Yield (pieces / minute) | 80-200 pieces / minute (related to material and label size) |
| Operation direction | Left in right out or right in left out > |
| Labeling accuracy | ±1.0 mm |
| Label type | Sticker sticker, transparent or opaque |
| Label inner diameter | 76 mm |
| Label outside diameter | 350 mm(max) |
| Label size | Length 10-70mm, height 10-70mm |
| Labeling object size | Diameter 10-22mm |
| working pressure | 0.6Mpa |
| Power supply and power | 220VAC±10% 50Hz,0.8Kw |
| Applicable environment | Temperature 5-40 ℃, humidity 15-85% (no condensation) |
| weight(kg) | 200kg |
| Machine size | 1800(L) 800(W) 1500 (H) mm |
| Remarks | Accept non-standard customization |
Basic use:
This model is suitable for labeling semi-period or full-circle round products such as ampoules, oral liquids, injections, pen tubes, legowhites, small batteries, solid glue, etc. It is more suitable for the automatic labeling of round products with small diameters that cannot stand Mark.
Features:
1、The main material of the equipment is SUS304 stainless steel and aluminum alloy, the layout is beautiful and elegant
2、The mechanism design is stable and easy to operate.
3、The use of world-renowned electrical components, stable operation
4、The transparent label has no foam and no wrinkle
5、Chinese and English touch operating system, using German Siemens PLC and servo motor closed-loop control to ensure high-speed and stable labeling operation is easy to learn
6、Use 750W high power, high torque, ultra-small inertia servo motor to send the standard, the speed can reach 40m / min
7、Adopt independent patent technology, full-automatic feeding device and special inclined roller conveying design to ensure that the object to be adhered accurately enters the labeling station, and realize the automatic completion of feeding and labeling in one time
8、Adopt independent patent technology and design of supporting mechanism to ensure that there is no warp or bubble in labeling
9、It can be operated by a single machine or connected with a high-speed filling line to improve production efficiency and save production costs. It can also be specially designed according to user requirements.
Operating system:
1、Multi-function human-machine operation interface, production counting, parameter adjustment and other visual monitoring, with rich help function and fault display function.
2、50 sets of labeling parameters can be preset, and there is no need to reset when changing bottles.
Optional:
1、Flexible configuration of hot stamping machine or inkjet printer.
2、Optional transparent and opaque label sensors.