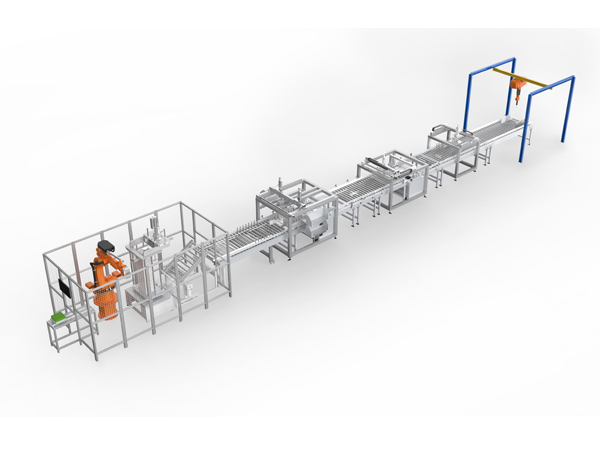 Renewable Energy Battery Production Machines
Automatic machine for battery module stacking, rotation, bottom plate and side plate assembly,packaging and soldering
Functional grouping to achieve the cylindrical lithium ion battery 3 voltage resistance gear
Cylindrical Battery Module Stacking and Packaging Automatic Production Line:
| | |
| --- | --- |
| Machine Size | L15m xW2.5m xH2.3m |
| Product Produced | 18650 , 21700 battery module |
| Machine Requirements | AC380V 50HZ 0.5Mpa |
| Machine Rhythm | 240PPM |
| Machine Power | 10KM |
Function:
Automatic machine for battery module stacking, rotation, bottom plate and side plate assembly,packaging and soldering.
Features:
1、The maximum compatible module is: 1160x280x370mm.
2、Line Saves 8 Laborers.
3、The pressing force position are monitored throughout the process.
4、When the pressure or position does not meet the requirements, the machine will automatically stop the alarm. The original module unloading station is manually transported without any power assisting device. Here, the 200kg truss type intelligent suspension lifting power is added. The system reduces the labor intensity and improves the work efficiency.
Battery Cell Sorting Machine:
| | |
| --- | --- |
| Machine Size | L5.5mx W2.2mx H2.1m |
| Product Produced | Lithium ion power battery |
| Machine Requirements | AC380V 50HZ/60HZ 0.5 Mpa |
| Machine Accuracy | Measurement accuracy 0.1mV , 0.1mΩ |
| Size of Product Produced | 21700 batteries |
Function:
Functional grouping to achieve the cylindrical lithium ion battery 3 voltage resistance gear.
Features:
1、The machine operates two lines in parallel,increasing production efficiency by 30%.
2、Machine fully automates loading of batteries into boxes.
3、The program is flexible and allows for easy use and process changes.
4、The programming algorithm plans the motion of the system and keeps simultaneous motions in sync which greatly improves efficiency.
5、All parts in contact with the batteries are made of a safe and reliable precision processed polymer insulation.