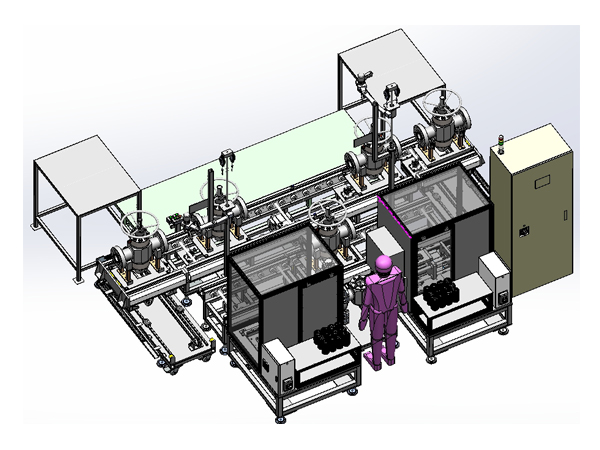 Automatic Assembly Line For Oil Tree Valves
Friction chain reflux mode and flexible transportation mode are used to transport 200 kg heavy products flexibly and efficiently, reducing the time of product handling
For the industry has not yet mature twin-head bolt tightening process, we invented a labor-saving and efficient tightening method, greatly improving the assembly speed
It is the first time in China to use oil valves with large tolerance and super quality for automatic assembly. According to some product characteristics of the valve body, precise positioning is carried out, and then precise assembly of the seat valve plate is carried out. The assembly method is more special
This line can greatly reduce the labor intensity of workers and potential safety hazards, improve assembly efficiency, under the current situation, the efficiency has increased by 200%
Equipment Parameters:
| | |
| --- | --- |
| Shape Size | 5mx5mx1.8m(Long*Wide*High) |
| Assembled Products | Petroleum Valve |
| Equipment Rhythm | Five Minutes A Piece |
| Assembly Product Dimensions | 590mm*480mm*270mm |
Equipment Characteristics:
1、Friction chain reflux mode and flexible transportation mode are used to transport 200 kg heavy products flexibly and efficiently, reducing the time of product handling.
2、For the industry has not yet mature twin-head bolt tightening process, we invented a labor-saving and efficient tightening method, greatly improving the assembly speed.
3、It is the first time in China to use oil valves with large tolerance and super quality for automatic assembly. According to some product characteristics of the valve body, precise positioning is carried out, and then precise assembly of the seat valve plate is carried out. The assembly method is more special.
4、This line can greatly reduce the labor intensity of workers and potential safety hazards, improve assembly efficiency, under the current situation, the efficiency has increased by 200%.