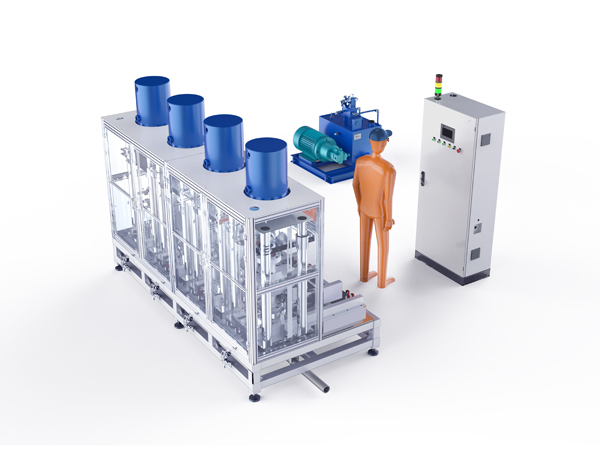 Oil Tree Valve Leakage Testing Equipment
The hydraulic system with rated pressure of 25 Mpa and the upper and lower plugging tooling are used to seal the two ends of the valve body, which is safe, stable and reliable
Valve loading and unloading clamping positioning time is short, easy to hoist, efficiency increased by 80%
Four workstations work at the same time, and the production capacity of the equipment has been greatly improved
For different products, the quick change tooling design is adopted, and the operation is convenient and flexible
Programming is flexible. For different products, users can switch freely, and the operation is simple and flexible
Equipment Parameters:
| | |
| --- | --- |
| Shape Size | 3m×1.4m×2.2m(Long*Wide*High) |
| Assembled Products | Oil Tree Valve |
| Power Supply And Gas Source | AC380V 50HZ/60HZ 0.6Mpa |
| Experimental Pressure | 105Mpa |
| System Function | Realization of hydrostatic pressure/seat hydrostatic test |
Equipment Characteristics:
1、The hydraulic system with rated pressure of 25 Mpa and the upper and lower plugging tooling are used to seal the two ends of the valve body, which is safe, stable and reliable.
2、Valve loading and unloading clamping positioning time is short, easy to hoist, efficiency increased by 80%.
3、Four workstations work at the same time, and the production capacity of the equipment has been greatly improved.
4、For different products, the quick change tooling design is adopted, and the operation is convenient and flexible.
5、Programming is flexible. For different products, users can switch freely, and the operation is simple and flexible.