Cylindrical Battery Module Line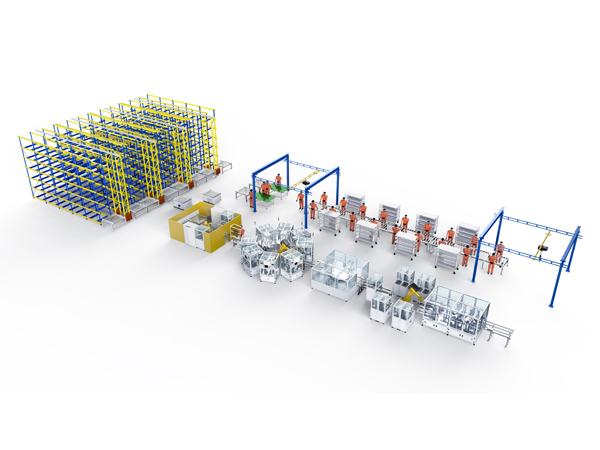 Technological Process: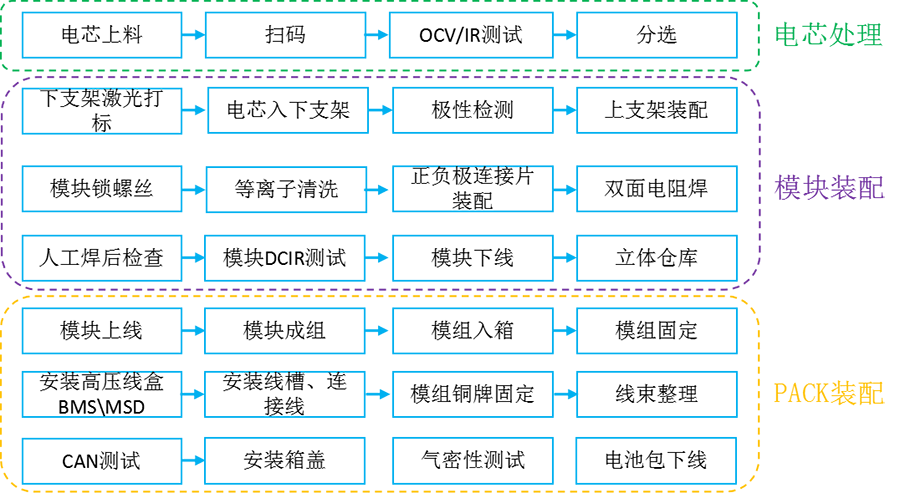 | | | | |
| --- | --- | --- | --- |
| Serial Number | Project | Technical Parameter | Remarks |
| 1 | Whole Line Size | 36×10×2.8 | |
| 2 | Power Consumption | ≤150kW | Specific Production Line Confirmation |
| 3 | Pressure | 0.5~0.7Mpa | |
| 4 | Power Supply | AC 380V,50Hz,3-Phase 5-Wire System | 3-Phase 5-Wire System |
| 5 | Control Voltage | 24V DC | |
| 6 | Working Temperature Range | -5℃-40℃ | |
| 7 | Equipment Capacity | 240PPM | Core Processing Capacity |
| 8 | Equipment Crop Mobility | ≥95% | |
| 9 | Good Product Rate | ≥99.9% | |
| 10 | Equipment Noise | ≤75db | Measure One Meter Away From The Outside Wall Of The Equipment |
| 11 | Operator Configuration | Module Line 3, PACK Line 23 | Including Mobile Feeder |
Features:
1、The system has automatic production mode, semi-automatic production mode and first-piece production mode.
2、It can detect and monitor the operation of various equipment (including welding workstation). When the equipment on the production line fails and the material is blocked, it can control the production line to stop and prompt the fault information.
3、It has single machine operation mode: core processing station, connecting piece assembly, positive and negative electrode welding, to meet the needs of single machine operation and maintenance.
4、The system has the ability of high flexibility and rapid type change.
5、With robots as the core of the production line, automation, modularization of work station, flexible manufacturing and highly reliable production process.
6、Servo sliding table is used to transfer between workstations. The transfer of workstations is precise and the fixture is fully imitated.